University of CT | 9/8/18

The 2018-2019 Collegiate Spikeball™ season is underway! These tournaments are different than other SRA events in that there is an Individual followed by a Club bracket. See below for more details. For fall play, teams may compete

in any sectional. Teams must consist of players that attend the same school. All players must provide proof of enrollment according to

these requirements

.

Check out the

Collegiate page

to answer any other questions.
Location
Parking - across the street from field.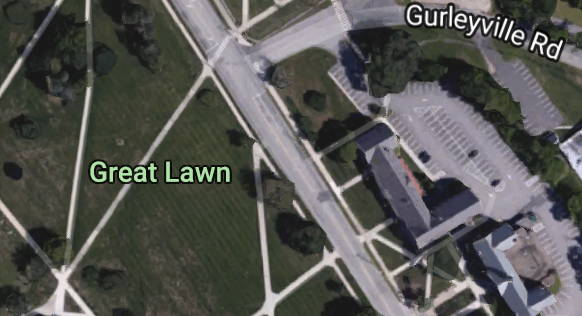 Cost per team
$20: First day special only

$30: August 16th - August 29th

$40: August 30th - September 5th

Last day to register is September 5th
Schedule
8:45am - 9:30am: All teams arrive to check-in and warm-up
9:45am: Opening announcements
10:00am - 11:00am: Pool play
11:15am - 3:00pm: Individual bracket
3:15pm - 6:00pm: Club bracket
*Schedule subject to change - if necessary, the tournament will be pushed to two days with Indivdual on Sat. and Club on Sun.*
Club Registration & Eligibility
All clubs/schools will have a platform in which to manage rosters and submit eligibility for college tournaments. All club Presidents or school representatives must fill out

this survey

and will receive an email with more information. All players must submit eligibility as proof of enrollment according to

these requirements

.​
Individual Team Format
Pool Play
Pool play will consist of all teams playing every other team in their pool once. Games will most likely be to 15, win by 2, cap at 21. Pools will be made with the intention of having even pools based on rankings and past tournament results.
Bracket Play
Teams will be seeded in a bracket based on the pool play results. Seeding will be done by win/loss, point differential, then head to head. Bracket play will most likely be 2/3 games to 15 or 21.
Club Team Format
The Club tournament will begin in bracket play and the Squad's seeding will be determined by the Squads combined points based on final placements of the teams from the Individual Bracket. See points below in rankings section. The matchups in the Club Bracket will put the Squads' 3 individual teams (1v1 2v2 3v3) against the other Squads' 3 teams.  
The order of the individual teams as part of the Squad will be determined by the placement of the teams in Individual Bracket play. If two teams from the same Squad are knocked out in the same round of the Individual Bracket, the point differential in that round will determine which team is seeded higher. If point differential is the same then whichever team had the higher seed entering bracket play is the higher team. If two Squads have the same combined point total then the Squad with the higher finishing team in the Individual Bracket gets the higher seed.
The Squad that wins 2 out of the 3 matches continues on to the next round of the bracket. If a Squad with only 2 teams plays a Squad with all 3 teams then the 2-team Squad must win both of their matchups to continue. If both Squads only have 2 teams then point differential will be the tie-breaker in the case of the Squads splitting matches.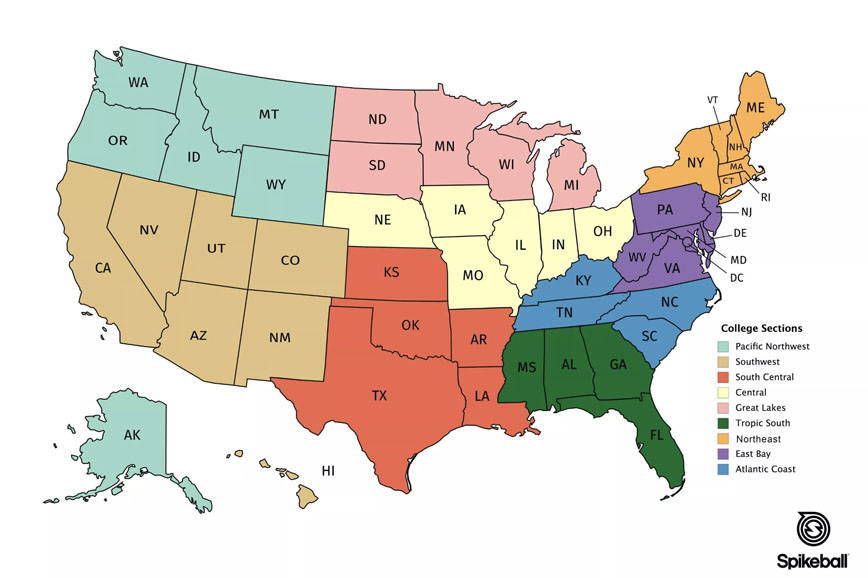 Other Regulations
Because the team count is limited to 3 in order to compete, a school may have multiple Squads compete in the Club tournament. (i.e. if a school has 8 teams playing in the Individual tournament, they can send two Squads of 3 and one Squad of 2 to compete in the Club tournament). But, Squads must be declared before the start of the Individual tournament (i.e. UGA has 6 teams and must declare which teams are a part of UGA Red and UGA Black before the individual tournament). The order of the individual teams as part of the Squad will be determined by the placement of the teams in Individual Bracket play.
Prizes
Individual
1st: 2 Pro Sets & 2 Jerseys*
2nd: 2 Hats & 2 Combo Meals
Club
1st: 6 Jerseys & 2 Pro Sets & 4 Combo Meals
2nd: 2 Jerseys & 2 Combo Meals
*If 1st place team is part of the 1st place Club, jerseys will fall to the highest placing Individual team that did not receive jerseys as prizes*
1st
2nd
3rd
4th
Round of 8
Round of 16
Round of 32
Round of 64
Rules
FAQs
How many people can I have on my team? 
All the teams are composed of just two players to make it fair when endurance becomes a factor in the later rounds.
What if it's raining?
We play rain or shine! We've had some crazy weather in the past and it's always been a blast. Unless you hear otherwise the tournament is on.
What is your refund policy?
Membership fees are non-refundable. Event registration fees can be refunded as long as requests are made in writing at least 5 business days prior to the event. After that time, event registration fees will not be refunded for any circumstance. To request a refund, contact

nora@spikeball.com

.
Have a different question?