Montreal, QC, CAN | 7/14/18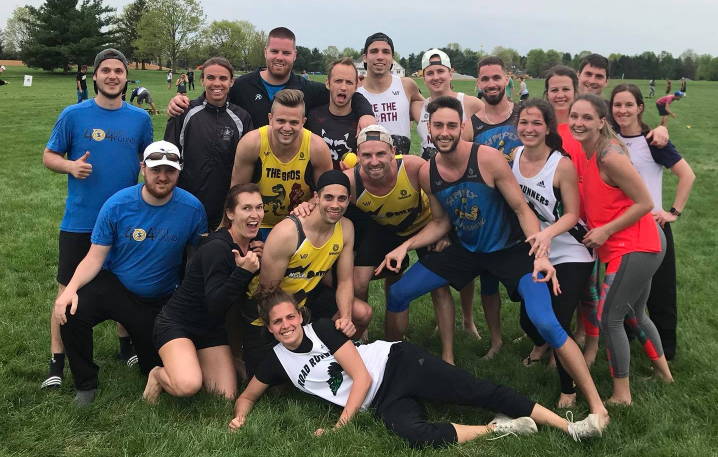 Join us for a day of roundnet north of the border in Montreal, QC, CAN! We have multiple divisions to suit every type of player. We'll have snacks, drinks, prizes, and activities to keep you busy throughout the entire day. The morning will consist of pool play to determine seeding and the elimination tournament will start in the afternoon.
Joignez-vous à nous pour une journée de roundnet à Montréal! Nous avons plusieurs catégories pour tous les types de joueurs. Nous aurons des collations, des breuvages, des prix, de la musique et des activités pour vous occuper toute la journée. Le pool-play en matinée sera suivi d'un tournoi à élimination en après-midi.
Location
Montreal, QC H2R 2W1, Canada

Cost per Division
$60: March 17th – July 11th
Last day to register is Wednesday, July 11th.
60$ - 17 mai au 11 juillet
Les inscriptions ferment le mardi 11 juillet à minuit.
Schedule
Friday
4:00pm - 6:00pm: Meet-up and play in Jarry Park ( Optional )
Saturday
8:45am - 9:30am: All teams arrive to check-in and warm-up
9:45am: Opening announcements
10:00am - 12:00pm: Pool play
12:00pm - 12:30pm: Lunch break
1:00pm - 6:00pm: Bracket play
7:00pm: After Party at TBD
*Schedule subject to change*
Horaire
Vendredi 13
14h à 18h : Pick-up games au Parc Jarry ( Optionnel )
Samedi 14
9h à 9h30 : Enregistrement de toutes les équipes et échauffement
9h45 : Annonces officielles
10h à 12h : Pool-play
12h à 12h30 : Diner
1h à 6h : Bracket play
7h : After-party, lieu à déterminer
Horaire sujet à changement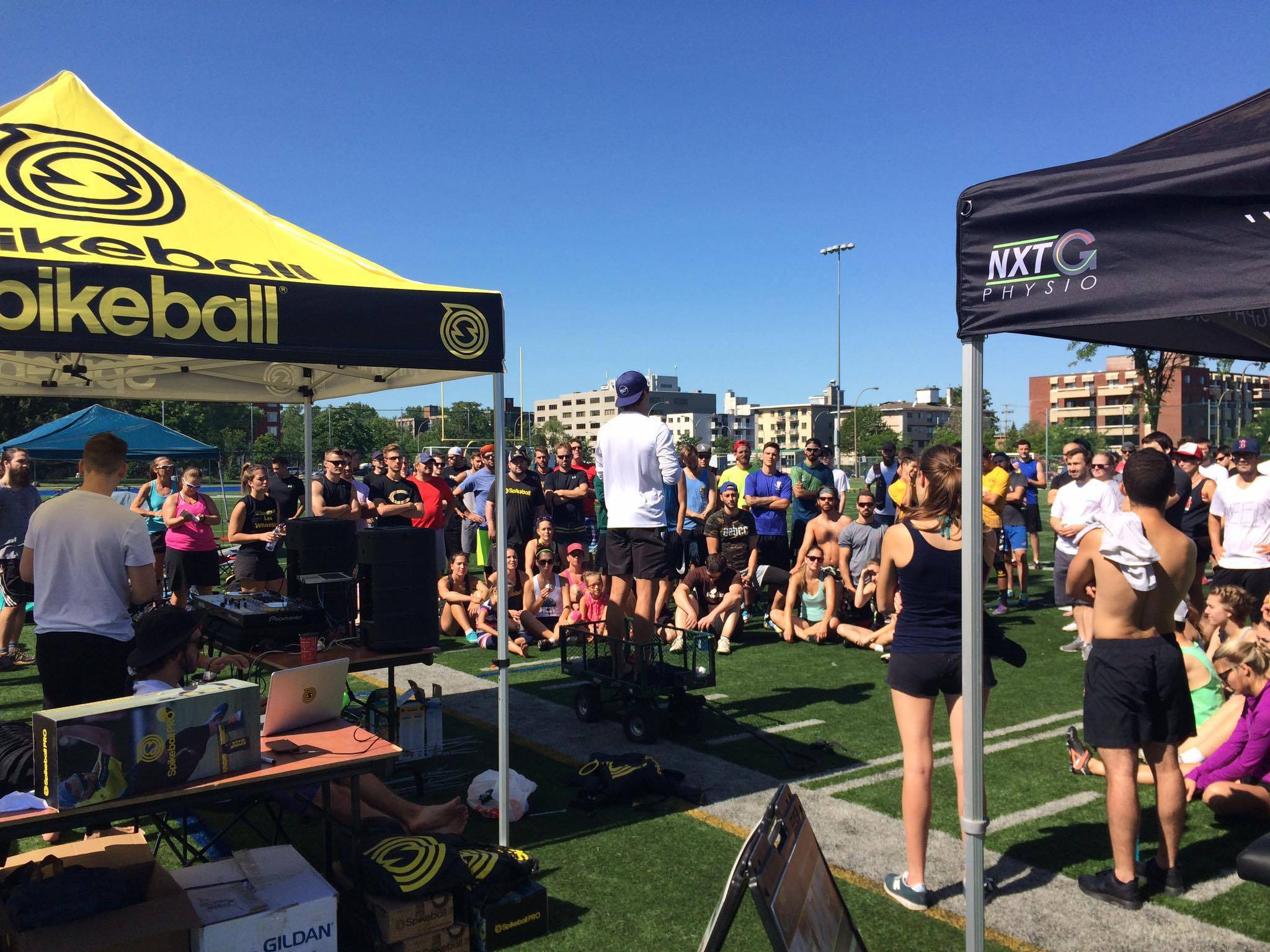 Format
Pool Play
Pool play will consist of all teams playing every other team in their pool once. Games will most likely be to 15, win by 2, cap at 21 but are at the TD's discretion. Pools will be made by the TD with the intention of having even pools based on rankings and past tournament results.
Bracket Play
Teams will be seeded in a bracket based on the pool play results. Each division will have its own bracket. Seeding will be done by win/loss, point differential, then head to head. Bracket play will most likely be 2/3 games to 15 or 21 but is at the TD's discretion.
Chaque équipe affronte toutes les équipes de son pool. Match de 21, cap à 25.
Les équipes sont distribuées dans les différents brackets en fonction de leur performance en pool-play.
Divisions
Women's - Women's Spikeball™ has made tremendous progress.Women are welcome to play in any division, but this women's divisions gives them the opportunity to match up against other lady ballers.

Intermediate - If you are newer to Spikeball™ or still honing your skills this is the division for you. This division will play by all of the official rules and is intended for people who want competition but are still developing their game.

Advanced - Think you're the best? Prove it. This division will include some top teams from across the country as well as newer players who want to test their skills against great competition.
Féminin

-

Les femmes sont les bienvenues dans les autres catégories, mais elles ont aussi la chance de compétitionner entre elles afin de déterminer LA meilleure équipe de Spikeball.

Récréatif

- Le Spikeball est nouveau pour vous? Vous avez encore quelques skills à développer? Cette division est faite pour vous!

Compétitif -

Vous êtes les meilleurs dans votre patelin? Vous êtes les meilleurs aux États-Unis? Vous maîtrisez le sport ou voulez tout simplement passer à un autre niveau? Cette division est faite pour vous!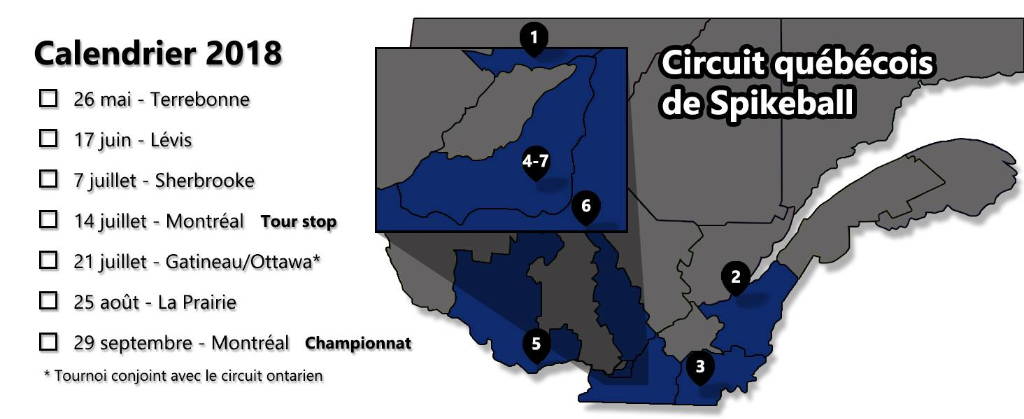 FAQs
How many people can I have on my team?
All the teams are composed of just two players to make it fair when endurance becomes a factor in the later rounds.
Can I play in multiple divisions?
Due to the format of the tournament, each team is only permitted to play in one division.
I'm new to Spikeball is this event for me?
Absolutely! We have divisions for every type of Spikeball™ whether you're one of the elite teams in the nation or just starting out in the sport.
What is your refund policy?
Membership fees are non-refundable. Event registration fees can be refunded as long as requests are made in writing at least 5 business days prior to the event. After that time, event registration fees will not be refunded for any circumstance. To request a refund, contact the Tournament Director listed on the event page.
---
---
Registered teams/Equipes enregistrees